Central location on the eastern seaboard means 1-day access to major East coast metro areas.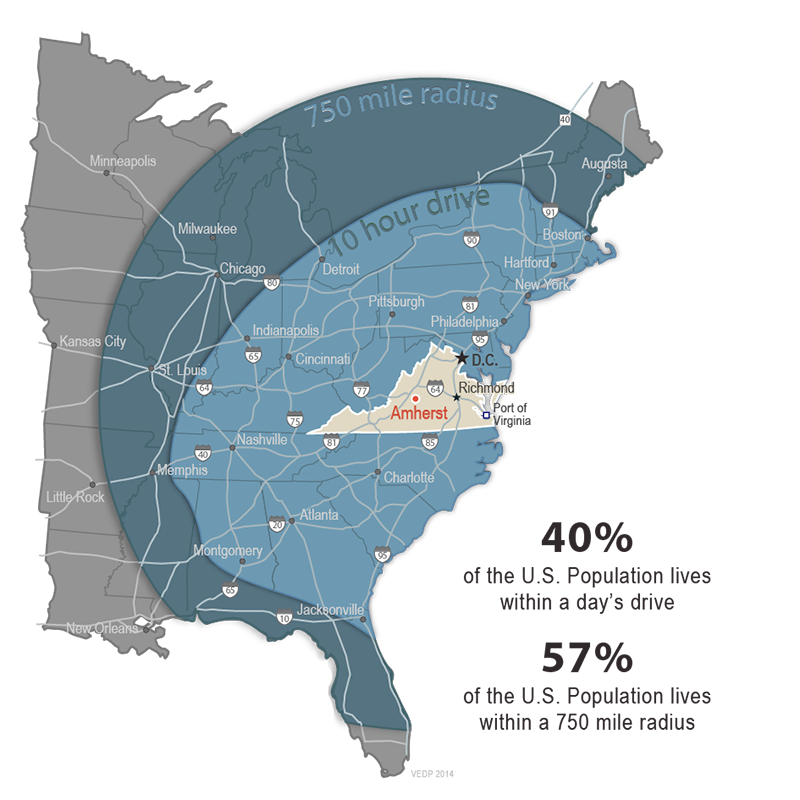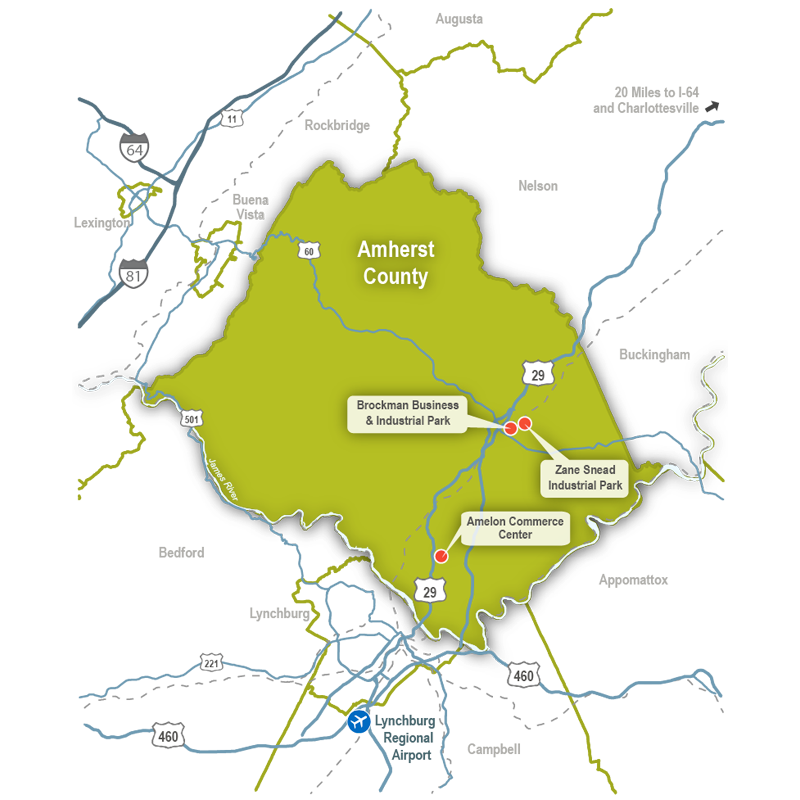 Highways
4-Lane divided highway (Rt 29) through the county with easy access to I-64 (east-west) , I-81(north-south), and US 460.
The U.S. Route 29 corridor in the eastern region of the county has become the focal point for most commercial, industrial and residential development. The county is part of the Lynchburg Metropolitan Statistical Area (MSA).
Virginia maintains the third largest state-maintained transportation network including the major Interstate routes of I-95, I-81, I-64, I-85, I-77, and I-66.
Central location means excellent long haul freight rates
Airports
Local: Lynchburg Regional Airport is 15 minutes away
Regional: Charlottesville Regional Airport is 1 hour away.
International: Washington Dulles International is less than 3 hours with non-stop commercial airline service to over 100 destinations worldwide.
Rail
Two of the nation's largest railroads, CSX Corporation and Norfolk Southern Corporation, serve the area. 
Rail access sites available.
Amtrak has daily service to Northern Virginia, Washington DC, Baltimore, Philadelphia, and New York. 
Seaports
Norfolk International Terminals, Newport News Marine Terminal, the Virginia Inland Port in Front Royal, the Port of Richmond, and the Port of Virginia (4 hours east by 4-lane highway) offer one of the largest intermodal networks on the U.S. East Coast and a naturally deep harbor devoid of overhead obstructions.
Utilities in Amherst County, Virginia
Electricity
American Electric Power (AEP) provides steady, reliable power to Amherst County businesses. Electric rates are approximately 25% lower than the national average (depending on usage). 
Central Virginia Electric Cooperative provides service to the northern section of the county.
Natural Gas
Columbia Gas of Virginia in southern portion of the county
Water
Amherst County Service Authority. Water rates are highly competitive. In 2013 they were 11% less than the state average.
Town of Amherst Municipal Water.
Sewer
Amherst County Service Authority. Sewer rates are even more competitive. In 2013 Amherst County rates were 30% less than the state average.
Town Of Amherst Municipal Sewer.
Telecommunications
Verizon
Comcast
Lumos
Mid Atlantic Broadband
Ntelos