Our highly trained workforce of over 230,000 is drawn from a excellent mix of job experiences across seven counties and five cities. Companies in Amherst County agree the workforce has strong work ethic and low absenteeism rates. Very low union activity combined with Virginia's Right-To-Work law creates an ideal environment for businesses.
Here is a quick view of Amherst County's workforce.
| | Amherst County | Extended Labor Market | Total |
| --- | --- | --- | --- |
| Population | 32,300 | 461,400 | 493,700 |
| Labor Force | 15,110 | 211,916 | 227,026 |
| Unemployment Rate | 4.3% | 4.3% | |
Labor knows no boundaries. Workers in the region commute long distances for good jobs.
Extended Labor Market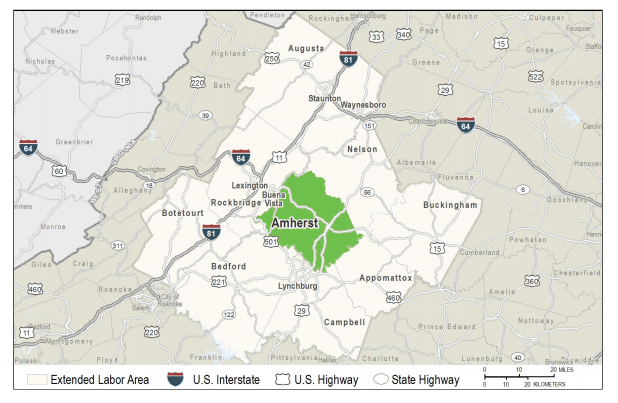 Within Amherst County's extended labor market is the Lynchburg Region, a 2,000 square mile area composed of the City of Lynchburg; the counties of Amherst, Appomattox, Bedford and Campbell; and the towns of Altavista, Amherst, Appomattox, Bedford, and Brookneal. For the Lynchburg Region labor market information go to Lynchburg Regional Business Alliance»
For additional detailed labor information on Amherst County, go to the Virginia Employment Commission community profile.
Postsecondary Education in the Amherst Region: Essential Workforce Development
Collectively, more than 800 engineering students graduate from the institutions on our map each year. And just two hours away is Virginia Tech, offering still more resources for research and talent.
Other nearby institutions include James Madison University in Harrisonburg (about 90 minutes' drive) and Mary Baldwin University in Staunton (about an hour away).
Area Educational Institutions
| | | | |
| --- | --- | --- | --- |
| | American National University | Career-oriented Associate, Bachelor's, and Master's degree programs in business, IT, and medical pathways. | 104 Candlewood Ct, Lynchburg, VA 24502 |
| | Byers Technical Institute | Located just outside the western border of Amherst County in the town of Buena Vista, BTI specializes in pipe/mechanical welding instruction. | 2694 Glasgow Highway, Buena Vista, Virginia 24416 |
| | Centra College of Nursing | Centra College of Nursing is committed to providing excellent care to individuals, families, and patients in the community through the development of professional nurses. | 905 Lakeside Dr A, Lynchburg, VA 24501 |
| | Central Virginia Community College | Many courses are geared toward technical studies/certifications, with options to adapt content to employers' needs. | 3506 Wards Rd, Lynchburg, VA 24502 |
| | Hampden-Sydney College | Founded in 1775, this men's college today combines a liberal arts education with a respected career center. | 80 College Rd, Hampden Sydney, VA 23943 |
| | Liberty University | Hosts 14,000 students on campus, with 17 colleges & schools, including engineering and osteopathic medicine. | 1971 University Blvd, Lynchburg, VA 24515 |
| | Longwood University | Longwood offers more than 100 programs of undergraduate study, as well as MBA and other graduate degrees. | 201 High St, Farmville, VA 23909 |
| | Randolph College | This liberal arts college also makes its summer online courses available to the general public. | 2500 Rivermont Ave, Lynchburg, VA 24503 |
| | Southern Virginia University | A small, faith-based college built upon the liberal arts education model with an emphasis on job placement. | 1 University Hill Dr, Buena Vista, VA 24416 |
| | Sweet Briar | A college for women, boasting an accredited engineering program (mechanical, electrical & environmental). | 134 Chapel Road, Sweet Briar, VA 24595 |
| | University of Lynchburg | Among its resources: a College of Business, a College of Health Sciences, and Westover Honors College. | 1501 Lakeside Dr, Lynchburg, VA 24501 |
| | University of Virginia | Just 50 miles from our county, this renowned institution provides convenient access to business & engineering studies. | Charlottesville, VA |
| | Virginia Military Institute | This historic school maintains degree programs in civil, computer, environmental, electrical and mechanical engineering. | 319 Letcher Ave, Lexington, VA 24450 |
| | Virginia Technical Institute | Hands-on, tailored career training in project management, electrical, welding, plumbing, HVAC and more. | 201 Ogden Rd, Altavista, VA 24517 |
| | Virginia University of Lynchburg | An institution originally begun in 1886 by the Va. Baptist State Convention. | 2058 Garfield Ave, Lynchburg, VA 24501 |
| | Washington & Lee | This school's Physics and Engineering Department supports undergrad and graduate studies in multiple fields. | 204 W Washington St, Lexington, VA 24450 |